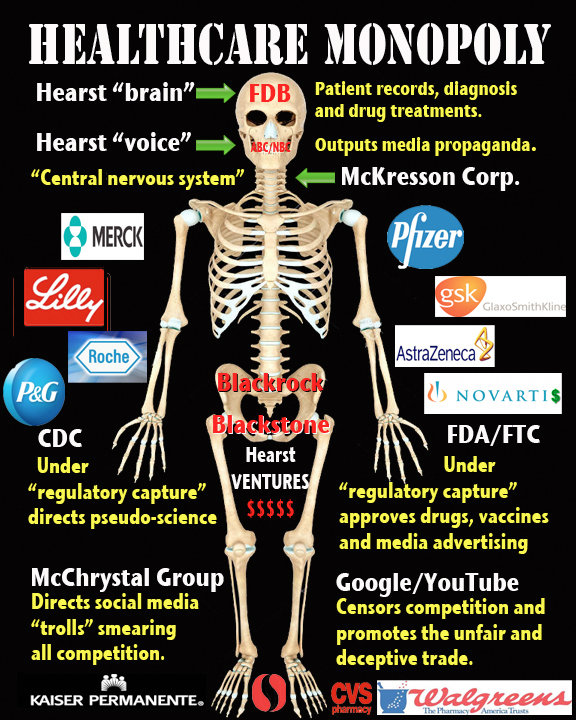 Help Expose the Concealed Healthcare "Holy War."

A "Healthcare 'Holy War'" Is being waged on the American people and religious world by the Hearst Corporation and Its partners, including the Bill & Melinda Gates Foundation that spreads genocide along with vaccines.
An Investigation Into the yellow press of Popular Mechanics revealed a "Medical Mafia" targeting certain celebrities as "Enemies-of-state" and promoting others who "play ball" with the "drug mob."  Confusing conspiracies and political realities protects Big Pharma and are proving the accuracy of Bible prophecies. Consider Dr. Leonard Horowitz's diagnosis and treatment plan for the corrupt mainstream media by clicking here.
Help Shut Down Big Pharma's "Drug Mob" for Committing Treason, to Restore Our "Godly Nation"
.
Go behind the scenes of politics, economics, and physics. The Oprah presidency is backed by the Hearst cartel that controls American "healthcare" with the McKesson Company that advertises itself as the "central nervous system of healthcare." IBM's Watson Computer is now recognized as the most advanced form of Artificial Intelligence (AI) also overtaking healthcare. Bill Gates and MicroSoft began with IBM's investment in Bill Gates's "garage."
Today, Oprah is central the "Deep State's" media, especially in healthcare, having launched "Dr. Oz's" career, and published incessantly on purportedly "natural remedies," neglecting and misrepresenting the risks of vaccinations all the while. So consider what's really pushing Oprah's candidacy that along with White House controversies divert from the harshest criminal realities of vaccination genocide. Click here to read more.
The Greatest Vaccine Debate: Shattering the "Intoxication Paradigm"
U.S. Biodefense Chief and Hawaii Senator Charged with Consumer Fraud in PBS Vaccine Debate on "Mandatory Injections" for All "Healthy Children"
The Public Broadcasting Station (PBS) outputs "liberal" propaganda on behalf of "conservative" industrialists advancing vaccination genocide under the guise of "public health." Not the network is pushing for "mandatory vaccinations" for all school children. Find out what's behind this deadly scam during the Great Vaccine Debate-2015 now showing on RevolutionTelevision.net.
PBS Hawaii is a great example of the alliance between the Boston-based WGBH public broadcasting enterprise and the local stations on their purportedly "non-profit" organization. PBS Hawaii confused and frightened viewers with a live program debating whether all healthy children must be vaccinated or otherwise quarantined if any outbreak occurs.
The riveting INSIGHTS ON PBS HAWAII Great Vaccine Debate-2015 featured four of the nations leading analysts, two pro, and two con, who debated the controversial subject most candidly.
America's bio-defense chief, Sarah Park, and Senator Josh Green (running for Lieutenant Governor at the time of this writing), Hawaii's Health Committee chairman, got slammed for consumer fraud and concealed conflicting interests in the genetically-modified vaccine industry debate. The officials concealed, among other things, Monsanto's influence on the PBS network and sponsor Pfizer—a repeat offender fined the largest criminal damage award for fraud in U.S. history.
Vetting the "con," and the widespread crime, leading anti-vaccinationists, Dr. Leonard Horowitz and Dr. Janet Edghill, disclaimed the program as part of a national campaign to deceive parents into vaccinating children by smearing better-informed resistors, marginalizing them as "crazy" for rejecting the "intoxicating injections," and expressing legitimate religious, philosophical, and medical concerns.
INSIGHTS ON PBS is a live public affairs show that is also streamed on PBSHawaii.org. The producers and host, however, failed to mention their conflicting sponsorship from Merck, Pfizer, and other vaccine makers, when they promoted the show that stunned viewers, and convinced most critics that vaccination resistors are better informed and certainly more candid for examining the "risk/benefit" science grossly and "criminally neglected" by doctors and pharmacists who are heavily invested in the "intoxicating paradigm" controlled by untrustworthy drug companies.