Polio Vaccine Myths Debunked by Expert Analysis of the New York Times and Associated Press Simultaneous Publication titled, "More Polio Cases [Are] Now [Being] Caused by [the] Vaccine Than by Wild Virus" Revealing Reckless Misrepresentations Concealing Genocide

LONDON — [Polio vaccine myths spread from The New York Times and The Associated Press].
In examining polio vaccine myths, let's begin by considering the trick word in the title of this New York Times article under scrutiny is the word "Now."  The caption heralds "Now" as if the original Salk and Sabin vaccines did not cause far "more polio cases" over the past half century than the "wild virus" ever caused.
The media has once again misrepresented the ongoing Anglo-American genocide, and the fact that:
(1) polio was never actually eradicated. Real scientists have been warning about this for years. Now even the corporate-controlled media reveals that vaccines have somehow suddenly resurrected polio; from re-appearing polio viruses. What's wrong with this propaganda?
(2) the "wild virus" cause of polio is insignificant, when polio vaccines contaminated with "wild monkey viruses" actually caused an explosion of cancers.
Such twisting or distortion of substantive facts by the media muddles and diverts from the real and present danger of spreading more cancers than paralysis through the polio vaccines.
The Propaganda
The source publication of this propaganda was the NY Times. That paper happens to be owned by Carlos Slim, whose gross conflicting interests in Big Pharma in favor of propaganda has been detailed by this author in MedicalVeritas online journal. There I discussed Slim in the context of the sudden emergence of the Zika virus. Slim was among the capitalists profiting from the conspiracy to loose the Zika agent and related propaganda to push genetically-altered mosquitoes also promoted by Bill Gates. The GM mosquitoes were claimed to compete against Zika virus carrying insects.
Slim's yellow press reported that "[f]our African countries have reported new cases of polio linked to the oral vaccine, as global health numbers show there are now more children being paralyzed by viruses originating in vaccines than in the wild."
There was no scientific reference to the source of this statement in the NY Times. Who was collecting those "global health numbers"? We are not told.
Are authorities ashamed to identify these suspects? Do the numbers collected in underdeveloped nations reflect the actual statistics?
In America, vaccination side effects and damage to children are rarely accepted as "caused by the vaccine". Does this article imply Third World countries 'mine their data' better than in America? That idea is unreasonable.
Nor is it likely that children in the bush country in Africa, Afghanistan or Pakistan, who later become paralyzed, would be informed that the "safe and effective" oral polio vaccine (that includes only "live attenuated viruses" presumably incapable of causing polio) would be the cause of their sudden paralysis. No wonder why the people in those countries are increasingly distrusting Western 'intelligence' and 'healthcare' providers.
"In a report late last week, the World Health Organization and partners noted nine new polio cases caused by the vaccine in Nigeria, Congo, Central African Republic and Angola."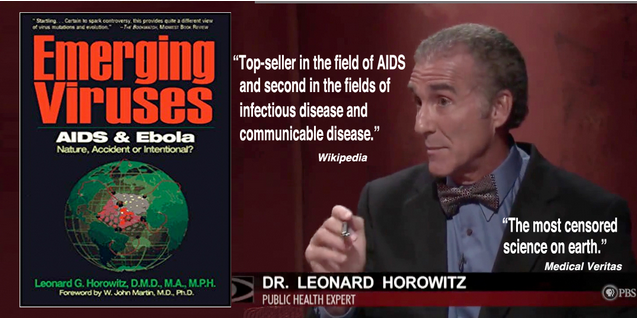 Odd that those precise countries lie within the "African AIDS Belt," central to the story of "man-made HIV/AIDS" that the New York Times editors refused to cover or review when I sent them a copy of the "Top-seller in the field of AIDS and second in the fields of infectious disease and communicable disease"" (according to Wikipedia).
These exact countries were subject to more than U.S. military bioweapons research for purportedly 'vaccine development' as chronicled from scientific and government records, evidenced in Emerging Viruses: AIDS & Ebola–Nature, Accident or Intentional? These nations were central to Anglo-American depopulation efforts, including experiments advanced during the Nixon-Rockefeller Administration stewarded by U.S. National Security Advisor Henry Kissinger. (See: National Security Study Memorandum (NSSM) 200 to consider the political and economic justification for the Kissinger-directed bio-weapons developments for Third World depopulation.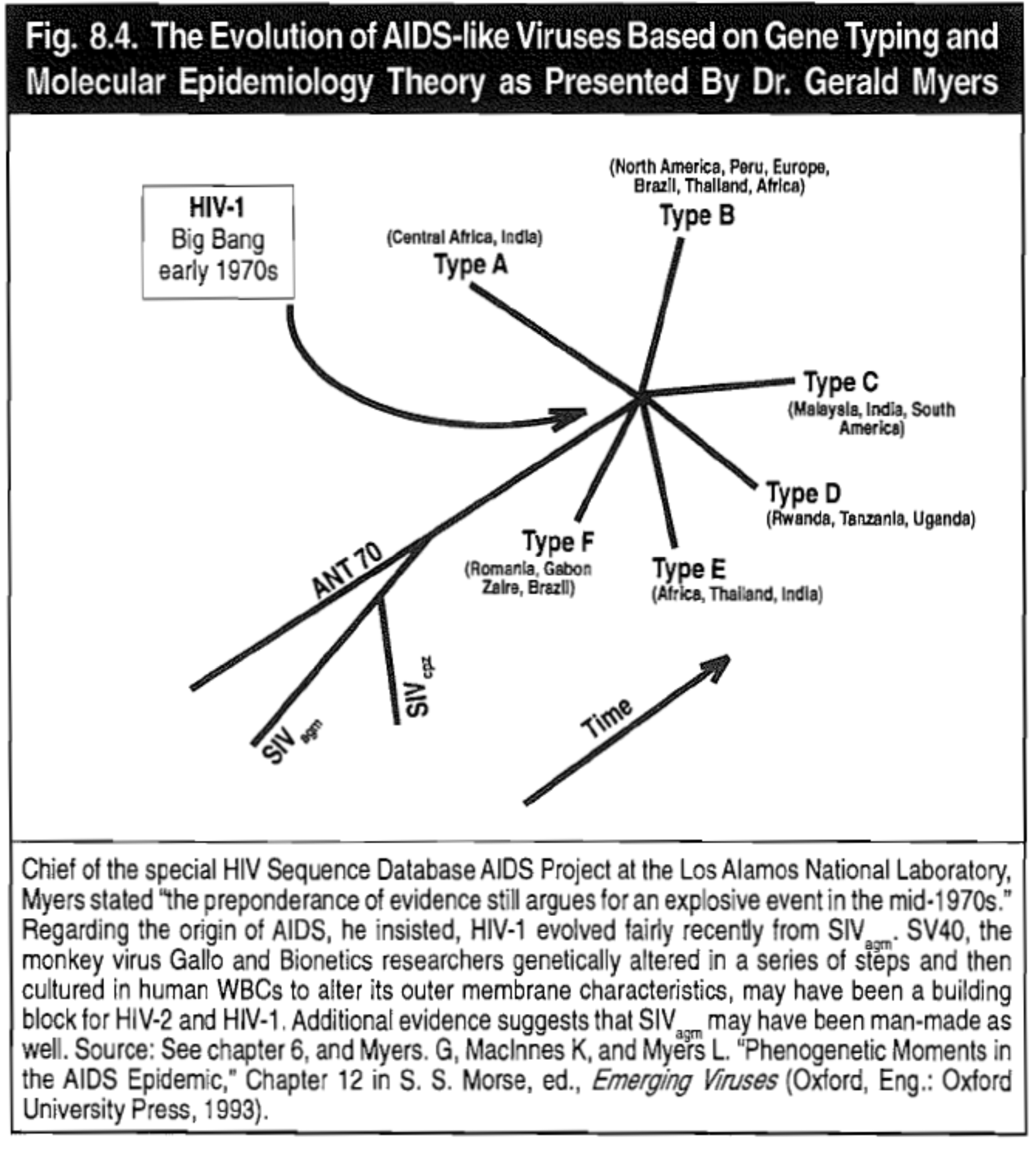 It is also noteworthy that the polio vaccines of the 1950s contained monkey cancer viruses (e.g., SV40 and SIVcpz) that have been shown to transmit from vaccinated mothers to their infants through "the gene line" (i.e., "vertical transmission").
Similarly, gay men in New York City concealed by the New York Times transmitted SV40 to hepatitis B vaccine recipients after their blood was "pooled" to develop the vaccine in which chimpanzees were used to grow the hepatitis B viruses.
In other words, according to this expert's peer reviewed science, SV40 contaminants from the polio vaccines recombined (i.e., mutated) with SIVcpz from the hepatitis B vaccines in the bloodstreams of gay men and mentally-retarded children at Willowbrook State School in Staten Island from which HIV/AIDS emerged on planet earth.
This thesis is corroborated by Dr. Gerald Myers' "Big Bang early 1970s" genetic analysis conducted at Los Alamos Laboratory in New Mexico.
Muddling Facts with Contradictions
The New York Times (Associated Press) propaganda continued:
"Seven countries elsewhere in Africa have similar outbreaks and cases have been reported in Asia. Of the two countries where polio remains endemic, Afghanistan and Pakistan, vaccine-linked cases have been identified in Pakistan.
Now think about that statement: "two countries where polio remains endemic." I thought polio was entirely eradicated due to the polio vaccine. Isn't that what the world has been repeatedly told as the primary justification for developing and selling more and more vaccines? You betcha.
"In rare cases, the live virus in oral polio vaccine can mutate into a form capable of sparking new outbreaks," the propaganda excused. The larger related risks remained suppressed.
I've been screaming for years that new viral mutants could be expected to emerge from vaccinations, but very few paid attention over the past quarter century of my warnings.
Now even this warning of vaccine-induced viral recombinants conceals the largest danger. If "the live virus in oral polio vaccine can mutate into a form capable of sparking new outbreaks," what about live poliovirus recombining with the AIDS, or hepatitis virus, or human papilloma virus (HPV)  and/or other cancer triggers? What about even possibly new man-made polio viruses recombining with more exotic 'wild viruses' such as Ebola or H5N1 the deadliest bird flu?
And if vaccine scientists are so smart that they neglected these risks well known in virology and molecular biology, how come we're still allowing vaccines to be sold at all? Why would the FDA and FCC even permit vaccine advertisements stating the potential cancer triggers are "safe and effective?"
Safe lab virus mutants don't exist as anything other than an oxymoron. These can be effective cancer triggers, auto-immune disease transmitters, or paralysis inducers. Isn't vaccine science great? Aren't vaccine proponents like Bill Gates so smart?
The Type 2 'Wild Virus' Tall Tale
"All the current vaccine-derived polio cases have been sparked by a Type 2 virus contained in the vaccine. Type 2 wild virus was eliminated years ago."
Think about that quote from the New York Times and Associated Press. It doesn't even make any sense. If "all the current vaccine-derived polio cases have been sparked by a Type 2 virus contained in the vaccine," and "Type 2 wild virus was eliminated years ago," this means that a refrigerator was needed to sustain the Type 2 wild virus; and that the cultured "wild virus" was re-inserted into the vaccine to spread the wild virus polio.
There is no other reasonable way to interpret that statement under the specter of science. This "scientific" explanation of the Type 2 wild virus "eliminated years ago" suddenly reappearing in vaccinated persons raises this refrigerator high probability.
It is also grossly unreasonable to presume the accuracy of that statement. If the Type 2 wild virus was eliminated years ago, how was that complete eradication be measured? Did virologists examine every species on earth to confirm the complete absence of the "wild virus"? Did they filter every liter of ground water? That would be absurd. Of course they didn't, because they could not.
So the entire statement, and blame suddenly attributed to new mutations generating old "Type 2 wild viruses' not found in the wild, but only found in paralyzed vaccinated victims, is an insult to reasonable people and scientific intelligence.
Considering the Epidemiology of the Scam vs. Prevention
The New York Times continued with traditional polio propaganda. "Polio is a highly infectious disease that spreads in contaminated water or food and usually strikes children under 5. About one in 200 infections results in paralysis. Among those, a small percentage die when their breathing muscles are crippled."
Now consider even that frightening propaganda. Might we prevent polio by securing pure water, clean nutrition, and good hygiene in all populations? You bet.
Should we even vaccinate everyone for polio if only one in 200 infected people become paralyzed; and among those only "a small percentage die"?
Alternatively, how many polio vaccine recipients die from 'wild virus-induced' cancers alone? According to the government, that number is both unknown and strongly contested.
According to the polio vaccine package insert, "Long-term studies in animals to evaluate carcinogenic potential or impairment of fertility have not  been conducted."
Shall we, therefore, blind our eyes to potential cancer risks from continuing polio vaccines?
"The following adverse events have been identified during post-approval use of IPOL vaccine," the package insert explains. "Because these events are reported voluntarily from a population of uncertain size [and uncertain intelligence levels, and uncertain healthcare providers, and uncertain assurances or reassurances following reported injuries], it may not be possible to reliably estimate their frequency or establish a causal relationship to vaccine exposure."
That admission is substantial. Here, Sanofi-Pasteur admits it has no scientific basis upon which to advertise polio vaccines as "safe," and anyone claiming the contrary (that polio vaccines are "safe") recklessly misrepresents the truth. The resulting damage kills and maims millions of people, mostly children.
Read the Package Insert to Consider the Risks
"Adverse events were included based on one or more of the following factors: severity, frequency of reporting or strength of evidence for a causal relationship," the polio vaccine package insert continued. Apparently, the following adverse reactions and conditions met the stringent criteria for including these illnesses among polio vaccine risks:
•Blood and lymphatic system disorders: lymphadenopathy
•General disorders and administration site conditions: agitation, injection site reaction including injection site rash and mass
•Immune system disorders: type I hypersensitivity including allergic reaction, anaphylactic reaction, and anaphylactic shock
•Musculoskeletal and connective tissue disorders: arthralgia, myalgia
•Nervous system disorders: convulsion, febrile convulsion, headache, paresthesia, and somnolence.
•Skin and subcutaneous tissue disorders: rash, urticaria
WHO Backs this Genocide?
The New York Times article continued, "Donors last week pledged $2.6 billion to combat polio as part of an eradication initiative that began in 1988 and hoped to wipe out polio by 2000. Since then, numerous such deadlines have been missed."
In other words, the polio eradication program has been worse than an abysmal failure. It has caused countless deaths, probably in the hundreds of millions. Yet, a couple of unnamed "donors" pledged $2.6 billion more dollars to continue spreading the damage and misery.
Who could that be? Who could afford that much money? The Bill & Melinda Gates Foundation, and its sister World Bank partnered vaccine distributor in this precise area of AIDS-devastated Africa–The Clinton Foundation, are the likely donors, both dedicated to reducing world populations most profitably.
"To eradicate polio, more than 95% of a population needs to be immunized," the propagandists continued to misrepresent the benefits of so-called 'herd immunity.'
The very fact that immunization is not the same as vaccination (i.e., intoxication) reveals the NY Times' bad faith, or simple stupidity. "Immunization" occurs from a natural exposure to a natural pathogen through a natural route of entry, such as the mouth, not a forced injection into the bloodstream containing GMOs coupled with heavy metal poisons and chemical toxins.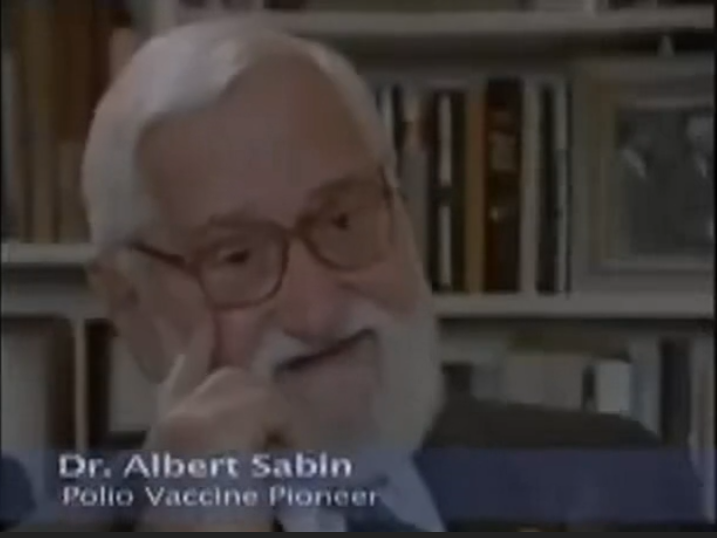 "[The] WHO and partners have long relied on oral polio vaccines because they are cheap and can be easily administered, requiring only two drops per dose.
"Western countries use a more expensive injectable polio vaccine that contains an inactivated virus incapable of causing polio."
That statement neglects the fact that the original injection called the "Salk vaccine" never contained fully "inactivated" poliovirus. Salk's vaccine was pulled from the market because the formaldehyde used to kill the viruses did not work well. So tens of thousands of youngsters developed polio. And all those cases were censored by the corporate-controlled Big Pharma-complicit media. (You can view Dr. Albert Sabin's testimony regarding these facts HERE.)
WHO is Spreading What Uncontrollably?
"The Independent Monitoring Board, a group set up by WHO to assess polio eradication, warned in a report this month that vaccine-derived polio virus is 'spreading uncontrolled in West Africa, bursting geographical boundaries and raising fundamental questions and challenges for the whole eradication process.'" (Emphasis added.)
The fact is, this is nothing new. It is not "news." This "vaccine-derived polio virus" has been "spreading uncontrolled in West Africa, bursting geographical boundaries and raising fundamental questions" since the first polio vaccines targeted Africans for depopulation in the 1950s. The damage to African nations and populations has been catastrophic.
But that depopulation and dependence on Western medicine is precisely the intended outcome advanced by Anglo-American officials such as Henry Kissinger who ordered the development of the AIDS-like and Ebola-like bioweapons for presumably U.S. National Security.
"The group said officials were already 'failing badly' to meet a recently approved polio goal of stopping all vaccine-derived outbreaks within 120 days of detection."
There are two final lies in that statement: (1) the officials were actually succeeding most profitably by failing to stop "all vaccine-derived outbreaks;" and (2) "vaccine-derived outbreaks" of polio is far less deadly and damaging than "vaccine-derived cancers" and other injuries listed above by the polio vaccine maker.
Indeed, these neglected outcomes are most profitable and politically advantageous in the war-torn Central African AIDS Belt wherein natural resources, such as precious minerals, gems, especially diamonds, and fuels abound.
Indeed, the NY Times article concluded, the WHO report "described the initial attitude of WHO and its partners to stopping such vaccine-linked polio cases as 'relaxed' and said 'new thinking' on how to tackle the problem was needed."
Sure. Let's just relax about all of this. Smoke a cigar. Sip a martini. Why fuss over a billion poor people dying to secure the wealth of the Anglo-American elite and their evil obedient servants.
___
Note: This NY Times story was corrected to show that of the two polio-endemic countries, Afghanistan and Pakistan, only Pakistan has reported vaccine-derived polio cases.
ABOUT THE AUTHOR:
Leonard G. Horowitz, D.M.D., M.A., M.P.H., D.N.M. (hon.), D.M.M. (hon.)
Dr. Leonard G. Horowitz is one of the world's most prolific, best credentialed, and most controversial drug industry critics. He is also a music industry revolutionary, natural medicine expert, pharmaceutical industry whistleblower, and intelligence industry analyst who has published twenty-two books, seven documentary films, and dozens of peer reviewed scientific articles.
After receiving his Doctor of Medical Dentistry degree from Tufts University, and a Master of Public Health degree from Harvard University, Dr. Horowitz went on to publish the first of three American bestsellers, Emerging Viruses: AIDS & Ebola–Nature, Accident or Intentional?. This book is largely credited by Centers for Disease Control (CDC) officials for prompting the global vaccination risk awareness movement. Dr. Horowitz's monumental text caused several governments to reconsider their "immunization" policies, and it became the center of political debate in 2008 when Barack Obama's minister, Rev. Jeremiah Wright, credited Horowitz and this book for evidencing HIV/AIDS as a genocidal weapon of mass depopulation targeting Africans and African Americans courtesy of covert U.S. military contractors named in the publication.
Dr. Horowitz's second bestseller, Healing Codes for the Biological Apocalypse, prompted a revolution in the music and natural healing industries.
The retired dentist and naturopathic physician's consumer health guidebook, Healing Celebrations: Miraculous Recoveries Through Ancient Scripture, Natural Medicine and Modern Science, pioneered the protocol adopted by thousands of natural healers and doctors worldwide.
His 2007 decryption of Leonardo da Vinci's most famous drawing revealed the mathematics of LOVE: The Real da Vinci CODE; and his follow-up text, the most monumental of his 30-year career, The Book of 528: Prosperity Key of LOVE, reveals "God's creative technology," available for revolutionizing music, recording artistry, healthcare, environmental protection, natural resource restoration, along with civilization's transformation as an "enlightened species" choosing peaceful sustainable collaboration versus murderous  degenerative competition and lethal consumption.
From Dr. Horowitz's books, video productions, and documentary films, Hollywood filmmakers have drawn many ideas, including the 2010 movie INCEPTION, I Am Legand, the X-File Movie, and several others.
International acclaim and widespread acceptance of the doctor's works revealing Solfeggio frequency physics and metaphysics has prompted the "528LOVERevolution," which Dr. Horowitz and his partner, journalist and activist, Sherri Kane,  has commercialized in the rapidly growing 528RadioNetwork.com and through his private television station, LOVE528TV.net, formed following Google/YouTube's censorship of more than 150 of the doctor's DVD productions.
Dr. Horowitz's and Sherri Kane's 528Radio.com broadcasts "medicinal music" transposed into the "LOVE frequency" of 528Hz, that resonates the heart of rainbows, 528nm of greenish-yellow light, precisely why grass is green, and the air is full of  electron-energized oxygen vibrating in the energy of LOVE/528.
Dr. Horowitz's film presentation, the 528KEY movie, provides an explanation of the great opportunity provided by the 528 frequency for advancing unprecedented benefits to civilization.